After a month at the University of Toronto, Kateryna Luchka wants to know what to expect upon returning to her hometown of Pryluky, Ukraine – an area she has described as "very dangerous" given the ongoing Russian invasion of her country.
So she put the question directly to Ukrainian President Volodymyr Zelenskyy.
The exchange took place at a Wednesday event — hosted and organized by the U of T president and the Munk School of Global Affairs & Public Policy — that brought together students from U of T and 11 other Canadian universities (see full list below) facing Ukrainian leader via a live video link.
Dressed in military fatigues and seated at a desk between two flags, Zelenskyy gave a short speech before taking part in a question-and-answer session with students from across the country.
He recalls attending a U of T-hosted international summit on Ukraine's future in 2019, when he compared Ukraine's underdog status to that of the Toronto Raptors, championship winners – a comparison that takes on a whole new meaning three years later.
"Today we are fighting for the future of our children and grandchildren – for the possibility of building the new country," he said, speaking through an interpreter, at about Ukraine's efforts to push one of the world's largest armies from its borders.
"We will prevail against all odds for a free and democratic future."
He added that Russia's four-month-old invasion has caused hundreds of billions of dollars in damage, wiping out much of the progress Ukraine has made in improving infrastructure, attracting foreign investment and increasing trade. scanning.
Kateryna Luchka, who is part of an exchange initiative between the University of Toronto's Faculty of Arts and Sciences and the Kyiv-Mohyla National Academy (KMA), poses a question to President Volodymyr Zelenskyy during the live event.
As for displaced students like Luchka — who is part of an exchange initiative between the University of Toronto's Faculty of Arts and Sciences and the Kyiv-Mohyla National Academy (KMA) — Zelenskyy said security remains the government's immediate priority.
"By defending our country and ensuring strong security aspects, we are laying the foundation for the country that will become different after full-blown aggression," he said.
He also encouraged students who have studied abroad to come back and "build an independent Ukraine".
Luchka, for her part, said she intended to return home.
"I hear people say it's better to stay [in Canada] because we can be more useful to the Ukrainian people – but I want to go back to Ukraine," she said.
"We are future generations. We will help rebuild our country.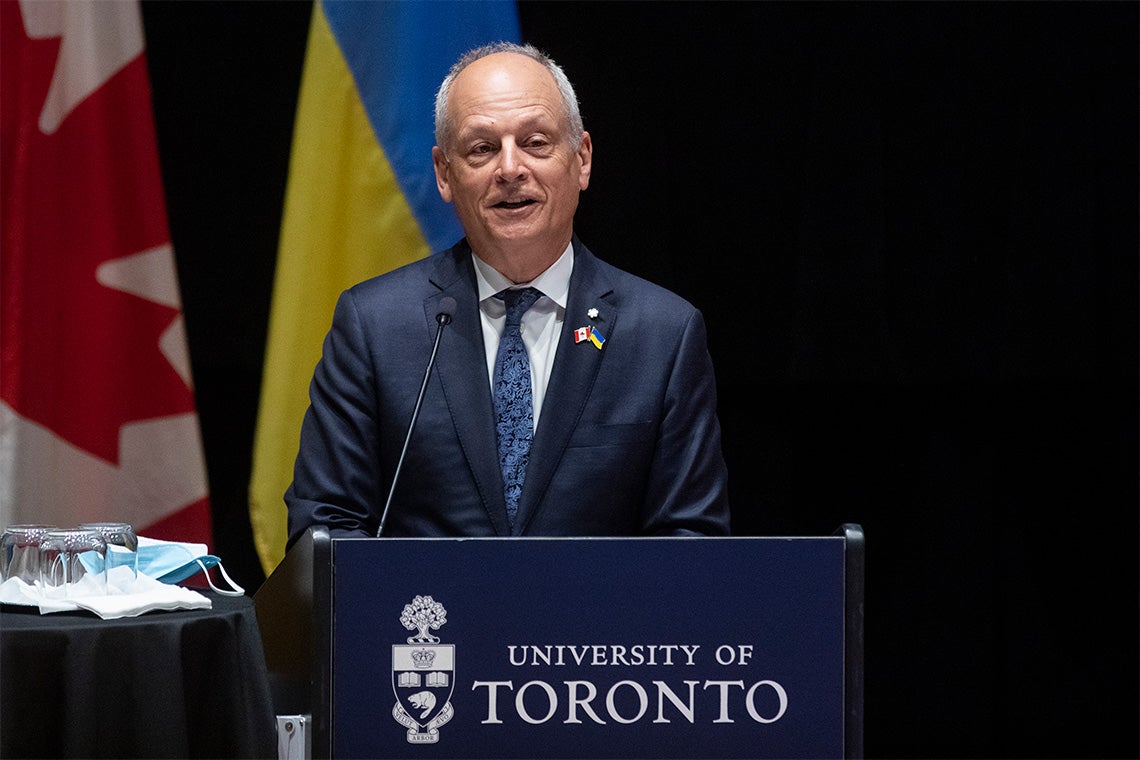 U of T President Meric Gertler, who co-hosted President Volodymyr Zelenskyy of the Munk School of Global Affairs & Public Policy, says Canadian universities, including the University of Toronto, are welcoming Ukrainian students whose studies have been interrupted by the war (photo by Nick Iwanyshyn)
President of U of T Meric Gertler said he was deeply honored that Zelenskyy took the time to speak with students at the University of Toronto and universities across the country.
"President Zelenskyyou and the people of Ukraine have won the admiration of people across Canada – and around the world – for your leadership and courage in this time of crisis," he said.
"Universities across the country have responded to your call to action. Many of them, including the University of Toronto, welcome Ukrainian students and faculty – and because we are inclined to build bridges rather than walls, we have also forged strong partnerships with top Ukrainian universities. plan.
With the support of a $3.2 million gift from the Temerty Foundation, the U of T is home to more than 200 Ukrainian students whose studies have been disrupted by war. The first batch of 20 Kyiv-Mohyla National Academy (KMA) students arrived last month on an exchange program with the University of Toronto's Faculty of Arts and Science. A second cohort of students is expected to arrive in September. Three KMA professors are also at the U of T as visiting professors.
There is also an exchange program run by the Department of Computer Science in the Faculty of Arts and Science and the Vector Institute for Artificial Intelligence which has brought 29 students to the U of T, as well as a program from the U of T Mississauga which is home to 20 students.
In addition, Pierre Loewen, director of the University of Toronto's Munk School of Global Affairs & Public Policy, announced at the event that up to 30 students from the Kyiv School of Economics (KSE) will arrive on campus this fall to study in the Master of Global Affairs from the Munk School. & Masters Programs in Public Policy. KSE students will have their tuition covered by the U of T and are eligible for financial support from Mitacs, a Canadian non-profit organization, for their living expenses.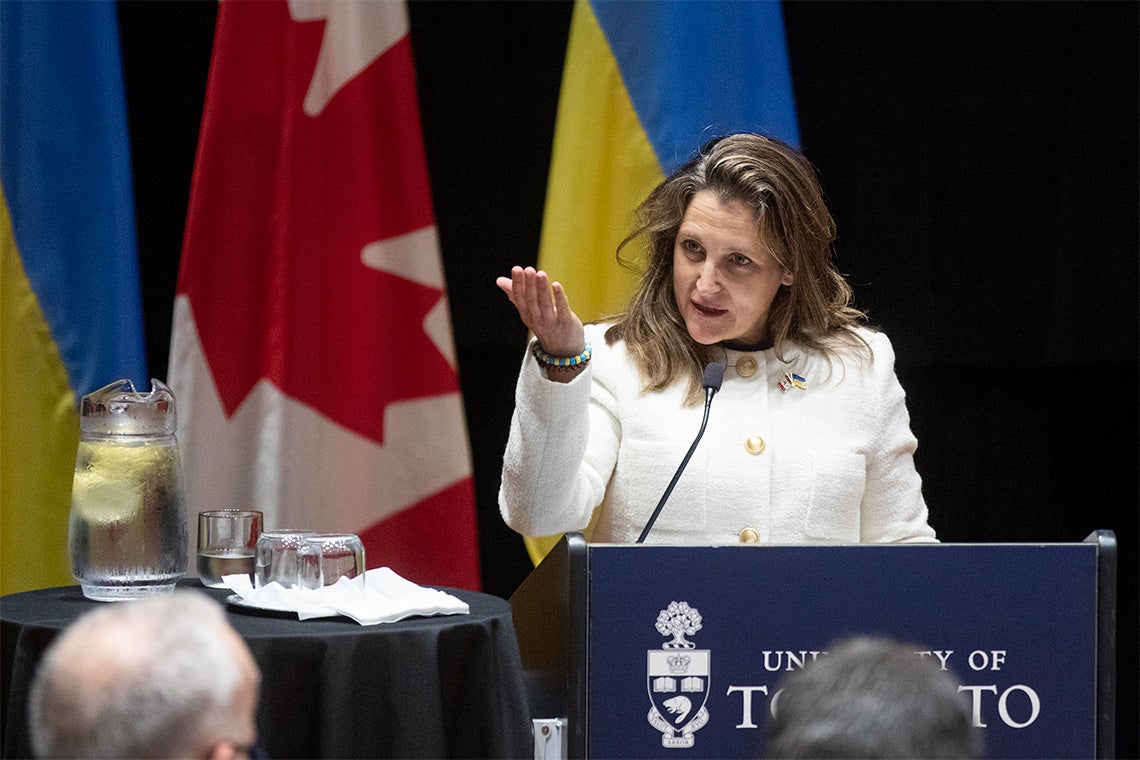 Chrystia Freeland, Deputy Prime Minister and Minister of Finance of Canada, presented President Volodymyr Zelenskyy (photo by Nick Iwanyshyn)
Chrystia FreelandDeputy Prime Minister and Minister of Finance of Canada, said Zelenskyy and the people of Ukraine are teaching the world a lesson in the importance of fighting for democracy.
"They teach us that you can stand up to someone bigger than yourself, even when the odds are stacked against you, if you believe in what you're fighting for and if your cause is right and true," said Freeland, who is the MP for University-Rosedale.
Canada has earmarked $1.87 billion in aid for Ukraine – of which $1.5 billion has been delivered – and would stand by Ukraine "for as long as it takes", he said. -she adds.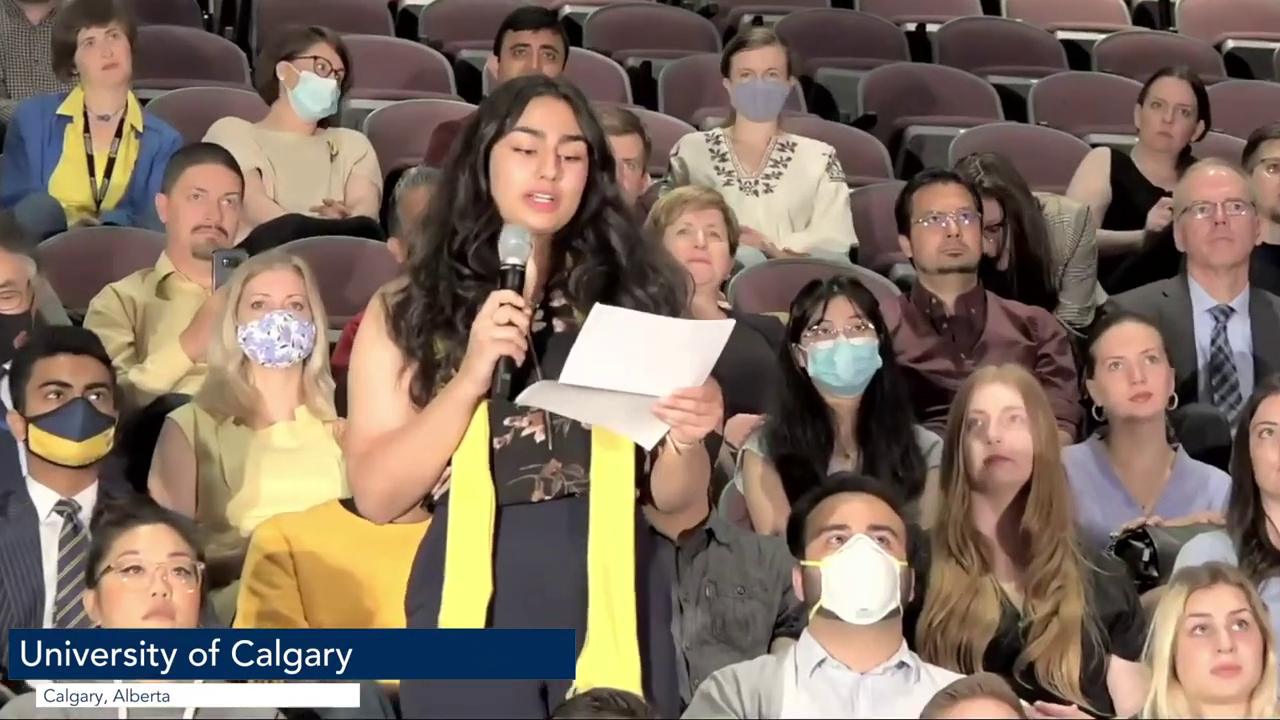 University of Calgary student Faith Moghaddami asks President Volodymyr Zelenskyy a question during the live stream.
Anya Broytmana new Master of Arts student in European and Russian Affairs at the Munk School, asked Zelenskyy about his role models and noted that he had been compared in the media to figures ranging from Winston Churchill to Harry Potter.
"We know who Voldemort is in this war and we know who Harry Potter is – so we know how this war will end," Zelenskyy joked.
He went on to point out that he was most inspired by "ordinary people" in Ukraine who resisted the Russian military, using tractors or even putting their bodies at risk to stall armored vehicles.
Broytman, who also recently completed her undergraduate studies at Trinity College at the University of Toronto, said after the event that she took the rare opportunity to ask Zelenskyy a more personal question to "get a glimpse of his inner world".
"It's so amazing to see someone in this dire situation, facing incredible pressure and incredible tragedy – that they can maintain their humanity and their sense of humor," he said. she declared. "I think it's really remarkable."
Originally from Moscow, Broytman moved to Canada with his family as a teenager.
"I have friends in Russia who have democratic values ​​and who want to live in a free country, but right now they can't even go out and demonstrate or face jail or fines," he said. she declared.
"It was important to take advantage of the fact that I am in a free country and that I can speak on behalf of those people in Russia who oppose what is happening, who are also hostages and victims of war – and try to give them a voice."
Emma Pattersonstudent in the second year of a master's degree in European and Russian affairs at the Munk school, asked Zelenskyy how he balanced martial law with the preservation of democracy, and how the prospect of European Union membership influenced the Ukrainian government.
Zelenskyy responded by saying that declaring martial law for the first time in an independent Ukraine was necessary to carry out the war effort. "When the war continues, unfortunately there is no time for dialogue or discussions," he replied. "There's no time for that because you're not [just] count seconds or minutes, but human lives – the number of survivors and the number of dead.
As for EU membership, he said the next few days would be decisive and hopes in Ukraine were high that it would be formally obtained candidate status.
Patterson says she was honored to represent the University of Toronto and speak to Zelenskyy, a leader she considers an inspiration.
"As someone who studies democracy, [I'm interested in] how they are able to maintain it in times of war when priorities change and everything changes," she said.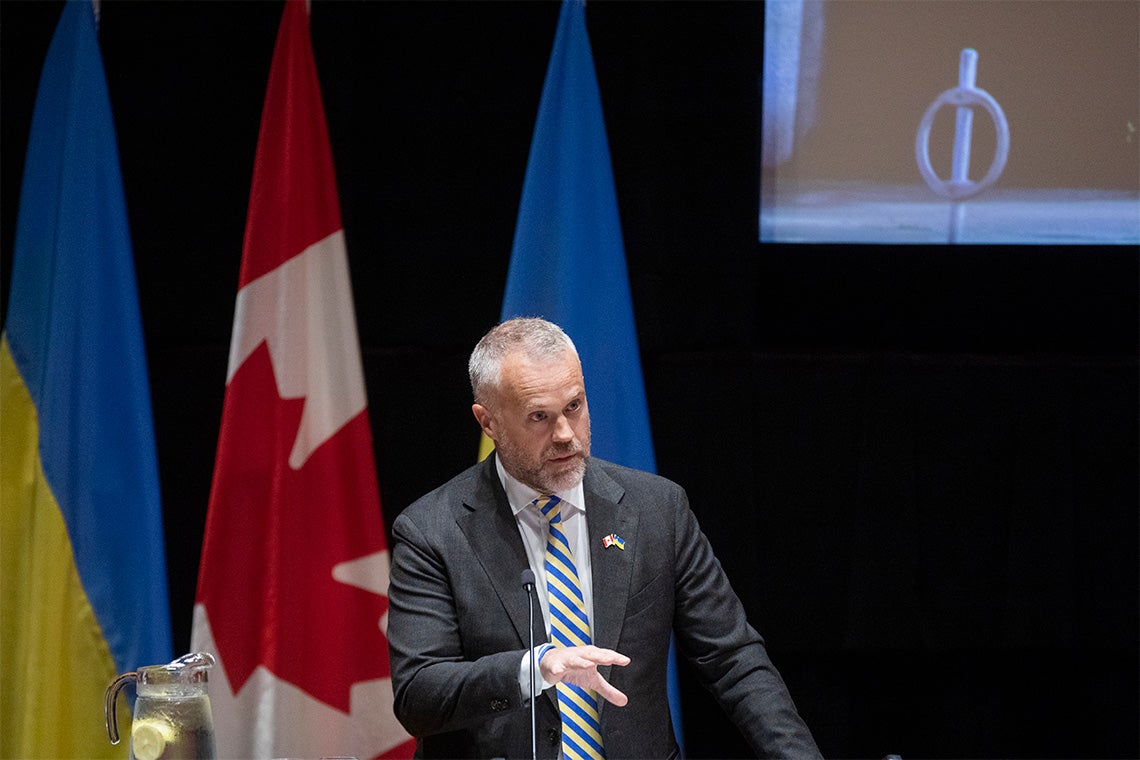 Peter Loewen, director of the Munk School of Global Affairs & Public Policy at U of T, said up to 30 students from the Kyiv School of Economics (KSE) will arrive at U of T this fall to study at the Munk School (photo by Nick Iwanyshyn)
In response to another question from Faith Moghaddami, a student at the University of Calgary, Zelenskky said that Ukraine is not only fighting a war on the ground, but also an information battle. He likened the internet to a weapon that shows the world the losses Ukraine has suffered and the damage Russian forces have left in their wake.
"It's a powerful instrument," he said. "I don't want our partners to be offended, because they transfer very powerful weapons to us – but I have to be honest, there is a big question: what matters most and what type of weapon protects us most ?
"Information – the word – can sometimes deliver a harder hit than certain types of weapons[s]."
As he has addressed legislatures around the world, Zelenskyy reiterated his call for support – arms, money and humanitarian aid – and he thanked Canada for helping Ukraine.
"Canada helps us as much as it can," he said. "It is very important that you students from many other countries take this message to their respective countries to pressure their political leadership to give Ukraine what it needs."
As for Luchka, she said she hopes to one day help bring about change in Ukraine's education system, adding that she feels inspired by her time at U of T so far – and the opportunity to speak with Zelenskyy.
"I know the president wants the students back to rebuild our country because if not us, who else," she said. "I think he gave me hope for the future that we have the power and we can make the changes. First, we have to end the war.
---
Here is the full list of universities participating in the livestream (besides the U of T):
University of Alberta

University of Calgary

Dalhousie University

University of Manitoba

Montreal university

University of Prince Edward Island

Queen's University

University of Waterloo / Wilfrid Laurier University (joint event)

Western University
Although they did not participate in the live broadcast, U of T Scarborough also hosted a YouTube viewing party, as did the University of Guelph, McMaster University, Metropolitan University of Toronto and other universities across Canada.