The former home in Stratford, at 198 Church Street, of two-term MP, Canadian Senator, physician, surgeon and First World War Lieutenant-Colonel, the Hon. Dr James Palmer Rankin received a Blue Plaque Award from Heritage Stratford and the town in a small ceremony on Tuesday afternoon.
Content of the article
In a town like Stratford that has been home to many famous and colorful people, the personal stories of those who have dedicated their lives to their community can sometimes fade from public knowledge.
Content of the article
On Tuesday, representatives from Heritage Stratford and Stratford Council, along with the current MP for Perth-Wellington, paid tribute to a man – the Hon. Dr James Palmer Rankin – who dedicated 53 years of his life to public and community service adorning the house where he lived from 1920 to 1934 at 198 Church St. with a Stratford Blue Plaque Award.
"Heritage Stratford ran a program last year called Tell Us Your Story, and we wanted the community to tell us stories about their loved ones or people they knew in the community," said the Heritage President. Stratford, Cambria Ravenhill, during the ceremony on Tuesday. "We were looking for both the famous… or the less famous who deserved to be better known.
"The entry of (the owners of 198 Church St.) was truly remarkable to us because the man we are about to talk about has given over 50 years of public service to the town of Stratford and really hasn't had a very high profile. In fact, many of us hadn't even really heard of him.
Born near Tavistock in 1855, Rankin practiced as a physician and surgeon from his first home in Stratford on Erie Street. He was twice elected MP for North Perth, serving in the House of Commons from 1908 to 1911 and from 1921 to 1925, and was appointed to the Senate from 1925 to 1934 before dying at his home in Church Street at 79 years while still in office. .
During World War I, Rankin, then in his 50s, also served domestically as a Lieutenant Colonel in the Canadian Army Medical Corps.
Content of the article
Ravenhill said Rankin began his public life as president of a school board, then became a town councilor before winning his first election as MP in 1908. Rankin would go on to run and lose to Hugh Bolton Morphy in of the next two elections before regaining his seat in 1921, shortly before moving into the Church Street house.
"We talked about the election he won, but I think the most interesting thing was actually the election he lost in 1917," Perth-Wellington MP John Nater said at the ceremony. of Tuesday. "It was at the height of the world war. As mentioned, he did not go overseas, but he was actively serving. He was in fact one of the few people to have served in the war effort and to stand for legislative elections. … I think it's a testament to his personality and to him as a human being that he participated in both the war effort and an election effort.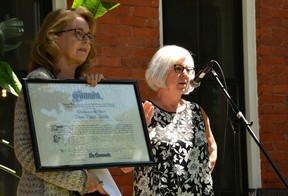 Two of Rankin's great-grandchildren, Adrian Hey and Gordon McTaggart, were present for the ceremony. Hey showed those gathered the original sheepskin certificate that Rankin had received after being appointed to the Senate. She said she remembered visiting her great-aunt, one of Rankin's daughters, in the Church Street house as a child, before and after the transformation of the former home of Rankin into a three-unit boarding house.
"It was the last time I was here. It was probably when I was 10," she said. "It's quite nice to be back here. I know my great-grandfather would be so happy to have this recognition after all these years.
Content of the article
Lucy Lawlor, who bought the house with her husband Richard Nesbitt after the COVID-19 pandemic in 2020, thanked Peter Lunney, the man they bought the house from, for restoring it to its former glory as a than a single family home.
"We've always been interested in heritage… When we saw the article (about the Tell Us Your Story program) in the Beacon Herald, we contacted the archives. … My daughter Olivia (Nesbitt) had done her Masters in Archival and Library Science in England, so she was quite fascinated by history. So the first owner, in 1890, was a cobbler…and then we come to 1920, and it's written by Dr. JP Rankin. He was probably the longest-serving owner, so he moved on to the Hon. James P. Rankin, so we started looking into him and the rest is history. It was beyond exceptional person," Lawlor said.
Surprisingly, Rankin's story might have remained in obscurity had it not been for Lawlor and his family's interest in the heritage of their new home and Heritage Stratford's Blue Plaque program, which celebrates the connections between notable figures of the past. and the buildings in which they lived or worked. .
"It's still amazing after living here 51 years that there are stories like Dr. Rankin's that have gone untold and that these people have not been recognized for their outstanding accomplishments," said the Mayor of Stratford, Dan Mathieson. "Not only serving as a doctor and surgeon in our community, but being a member of our beloved Perth Regiment and serving in the First World War is testament to his dedication to public service.
"And to submit to two terms in the House of Commons, you really know he was attached to his country."