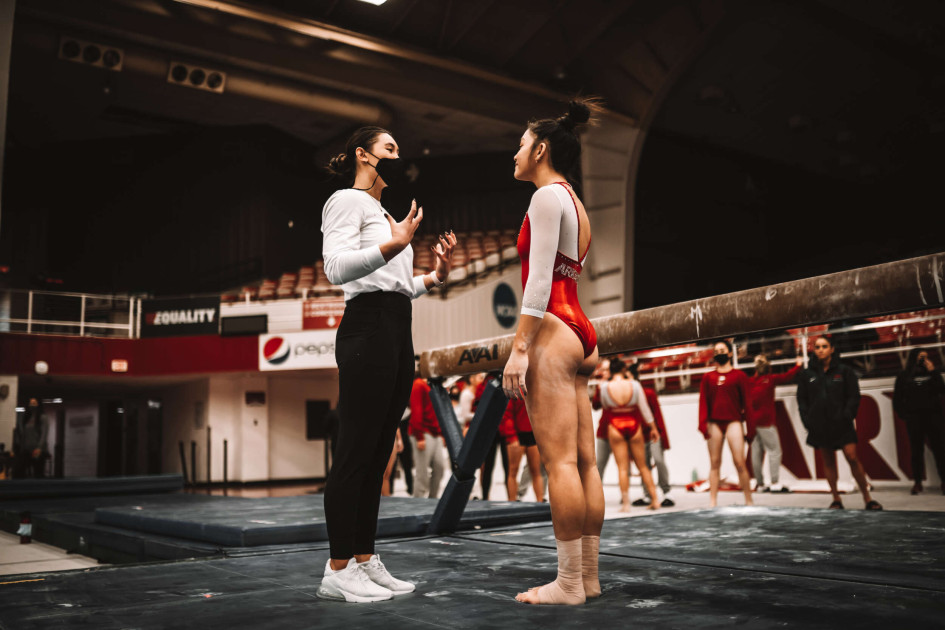 The Gymbacks officially open the competitive season at Barnhill Arena for a double encounter against Ohio State at 7:15 p.m. Friday.
Arkansas enter the competition with a preseason ranking of No.11, the highest in head coach Jordyn Wieber's tenure, and Ohio State is ranked No.22.
The two teams haven't met since 2018, and it will only be the fourth time in history that the Razorbacks face the Buckeyes. The last two times have been in the playoffs, and Arkansas and Ohio State haven't had a regular season game since Jan. 9, 2009. The Gymbacks are 3-0 in the series.
Friday's meeting also marks the return of non-conference action for Arkansas in the regular season, as the 2021 roster was reserved for the SEC.
The Gymbacks team is largely made up of subclasses and senior students with six freshmen and seven senior and graduate students.
Four-time All-American Kennedy Hambrick returns for his final year after finishing 2021 at the NCAA Championships. Hambrick also became Arkansas' highest total scoring program scorer in history at 39.750 against Missouri on February 19.
Graduate student Maggie O'Hara is only in her second season with the Gymbacks, but she's already made history. O'Hara became the program's first-ever regular season on uneven bars with a national qualifying score of 9.925. She was fourth at the Nationals with a score of 9.925, the highest score by a Gymback in NCAA program history, for another All-American honor.
Friday's meet is set for 7:15 p.m. with the first jump and coverage starting on the SEC network at 7:30 a.m. Doors open at 6 p.m.
The competition was dubbed Gymback Throwback Night, dedicated to celebrating 20 years of Razorback gymnastics and honoring the members of the 2002-03 inaugural team. The first 500 fans will receive a commemorative button with a special 20 Years of Razorback Gymnastics logo.
Tickets are still available and fans are encouraged to pre-purchase online. HERE, by phone (479-575-5151), or at the Razorback Ticket Center.
Visit ArkansasRazorbacks.com for the latest information on all things Arkansas gymnastics. You can also find the Razorbacks on social media by liking us on Facebook (Arkansas Razorback Gymnastics) and following us on Twitter and Instagram (@RazorbackGym).